KWH017ST13-C01 1.69 Inch 240x280 IPS TFT LCD Display With Capacitive Touch Panel
KWH017ST13-C01 1.69 Inch 240x280 IPS TFT LCD Display With Capacitive Touch Panel
Are you looking for a high-quality and reliable LCD display with a capacitive touch panel? Look no further than the KWH017ST13-C01 1.69 inch IPS TFT LCD display! In this article, we'll dive into the features, benefits, technical specifications, and customer reviews of this outstanding product.
The KWH017ST13-C01 is a 1.69 inch IPS TFT LCD display with a resolution of 240x280 pixels. It features a capacitive touch panel for easy and intuitive user interaction. This display is perfect for a wide range of applications, including wearables, smart home devices, and industrial equipment.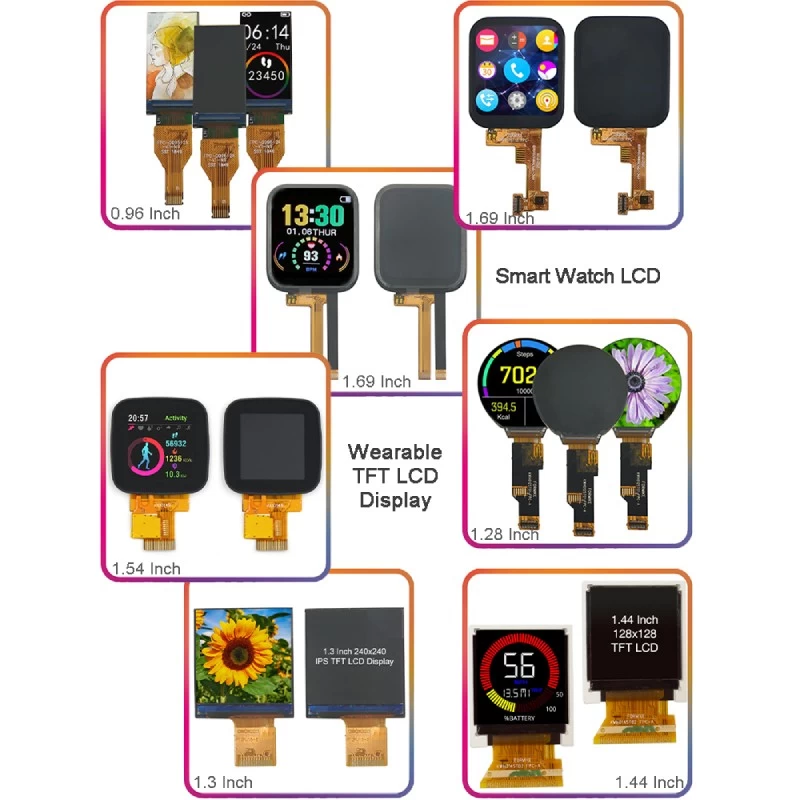 Features and Benefits
High-Quality IPS Technology
The KWH017ST13-C01 features IPS (In-Plane Switching) technology, which provides superior color reproduction, wider viewing angles, and faster response times compared to traditional LCD displays. This means that your content will look great from any angle, and users will enjoy a seamless and responsive touch experience.
Capacitive Touch Panel
The capacitive touch panel on the KWH017ST13-C01 is incredibly sensitive and accurate, allowing for effortless navigation and interaction with your device. Unlike resistive touch panels, which require pressure to register input, capacitive touch panels detect changes in electrical current when touched, making them more reliable and responsive.
Compact and Versatile Design
Measuring just 1.69 inches diagonally, the KWH017ST13-C01 is compact enough to fit in even the smallest devices, while still providing a large enough display for clear and detailed content. Additionally, this display can be used in a wide range of applications thanks to its compatibility with various interfaces, including MCU, SPI, RGB, and LVDS. The standard interface of KWH017ST13-C01is MCU interface. If you need other interface, we support to custom as you need. The display dimensions are 34.7mm x 40.70mm x 3.51mm.
High Durability
The KWH017ST13-C01 is built to last, with a rugged design that can withstand even the toughest environments. It features a durable glass cover, which protects the display from scratches and impacts, and is rated for a wide temperature range, making it suitable for use in extreme conditions.
Technical Specifications
Display Size: 1.69 inches

Resolution: 240x280 pixels

Display Technology: IPS

Touch Panel: Capacitive

Interface: MCU

Operating Temperature: -20°C to 70°C

Storage Temperature: -30°C to 80°C

Contrast Ratio: 800:1

Brightness: 350 cd/m²

Viewing Angle: 80°/80°/80°/80°

Dimensions: 34.7mm x 40.70mm x 3.51mm
Customer Reviews
Here are a few reviews from our satisfied customers:
"The KWH017ST13-C01 is exactly what I was looking for. The display is crystal clear, and the touch panel is incredibly responsive. I'm using it in a wearable device, and it's the perfect size." - John D.

"I've been using the KWH017ST13-C01 in an industrial application for several months now, and it has held up great. It's incredibly durable and works flawlessly in a variety of conditions." - Sarah L.

"I was a little hesitant to order the KWH017ST13-C01 because of the price, but it's worth every penny. The quality is outstanding, and it's so easy to use. I highly recommend it!" - Michael S.
Conclusion
If you're in the market for a high-quality LCD display with a capacitive touch panel, the KWH017ST13-C01 is an excellent choice. With its superior IPS technology, responsive touch panel, versatile design, and rugged durability, this display is sure to meet all of your needs and exceed your expectations. Don't just take our word for it - check out the reviews from our satisfied customers! So why wait? Order yours today and experience the difference for yourself!